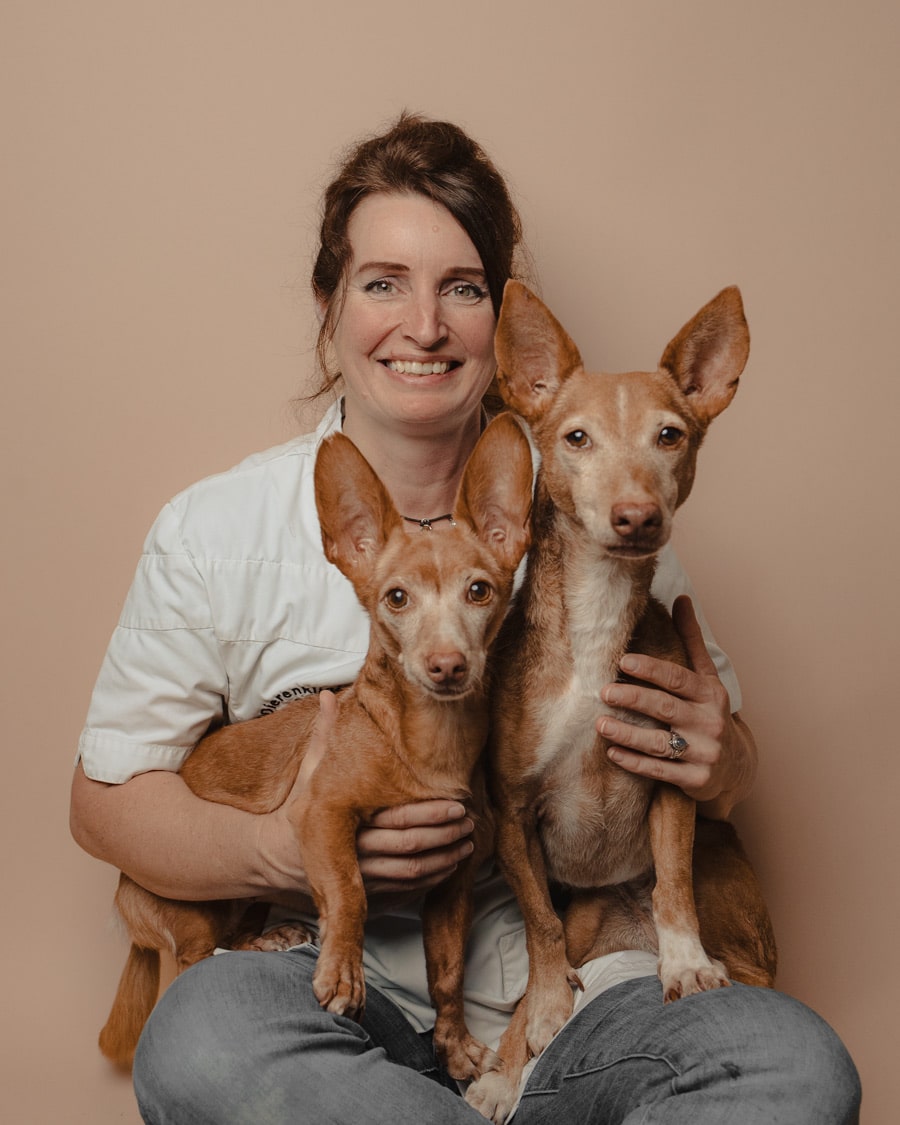 My name is Nienke,
Our house used to be like a zoo because my father was a biologist: we had cats, guinea pigs, rabbits, birds, fish, geckos, snakes, turtles… In the living room there was a cupboard with all kinds of skulls, owl balls and other special things.
The love of animals was literally a piece of my upbringing; my first memories as a child are of our two shelter cats Dumpie and Poekie. Around my puberty I had to say goodbye to them, which was very sad because we had grown up together. They both turned 18 years old.
As a little girl I always brought home all the animals that needed help… So it was no surprise that, as soon as I could, I started volunteering at the rabbit shelter and the bird shelter.
For my birthday I never asked my grandfather for the money that the other grandchildren received, but I always wanted to stay with my Grandpa's guard dog, so he came to my house once a year for a week. My biggest dream was to have a dog one day. When my grandfather passed away, his Bouvier Anouska became my first dog.
After my first dog, quite a few dogs followed: no fewer than 12, of which seven are still alive. All of them are cast-offs or stray dogs and all but one are elderly.
I walk behind a dog cart with a baby carrier around my neck every day but we still go for 1 to 3 hour walks.
No forest, heath or beach is safe from my gang of misery.
I have been a doctor's assistant and pharmacist's assistant in the past, but my heart was always with animals.
In the end, I was retrained as a Paraveterinary Veterinary Assistant more than 20 years ago and I am still happy with this step.
I worked behind the counter at the emergency clinic, assisted in the dermatology department of the MCvD, worked at two practices specialized in birds and rabbits and at the home animal doctor in Wormerveer. There I was a driver and (operation) assistant. We performed surgeries and consultations at home in a converted human ambulance.
I also worked for a while at the voluntary fire brigade, but unfortunately I had to stop because Juultje (my blind dog) missed me so terribly when we were training, he could pass for a fire siren.
I am now completely in my place in Duivendrecht and have never had such a nice workplace!